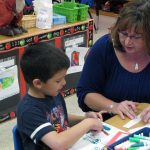 The North Carolina Pre-K Program is a high-quality pre-k program that serves children who are at risk and prepares them for success in school. Pre-kindergarten is a research-proven strategy for school readiness.
Children served by NC Pre-K attend a full school day (6 1/2 hours per day), full school year program that meets high-quality state standards.  The program is community based.  It is integrated with other early childhood programs in the community and administered at the county or regional level.  Children participating in NC Pre-K may be served in classrooms in the public school, private child care, or Head Start programs.
The NC Pre-K program is especially beneficial for those children most at risk for school failure.  According to independent evaluation findings by the FPG Child Development Institute, University of North Carolina at Chapel Hill, children served by NC Pre-K exhibit substantial growth in key areas including language, literacy, math, and social skills.
Eligibility
The program serves children who are four years old on or before August 31, will be entering kindergarten the following year, and are at risk for poor school outcomes.  Factors that put children at risk for poor school outcomes include low income, limited English proficiency, identified disability, chronic health condition and developmental or educational need. Children of Active Duty military families are also eligible.  Priority is given to eligible children who have not been served in any other preschool or child care program.
NC Pre-K Forms
Current NCPK Locations
Instruction Sheet (English)
Instruction Sheet (Spanish)
Preschool Application (English)
Preschool Application (Spanish)
No Documentation of Income Verification (English)
No Documentation of Income Verification (Spanish)
No Income Verification (English)
No Income Verification (Spanish)
Physical Form
**Completed applications with supporting documents can be emailed to Maria Lopez at mlopez@pfcw.org or Lorena Esparze at lesparza@pfcw.org.**
Resources
DCDEE Website
Frequently Asked Questions and Answers
What is the purpose of NC Pre-K?
The purpose of NC Pre-K is to provide high-quality educational experiences in order to enhance kindergarten readiness for four-year-olds who are at risk of school failure.  The program is community-based, voluntary, and designed to prepare at-risk four-year-olds in North Carolina for success in school.
How do I know if my child is eligible for NC Pre-K?
Children served in a NC Pre-K slot must meet age requirements (children to be enrolled must be four years of age on or before August 31 in the year served), income eligibility (children with families with annual incomes at or below 75% of the State Median Income (SMI) level are eligible for NC Pre-K services), and service priority criteria (served, underserved, and unserved).
My spouse is in the military and is often deployed.  We would like to have our son in NC Pre-K; how can I get my child into NC Pre-K?
A child is eligible for NC Pre-K if at least one parent or legal guardian of this child is an active duty member of the armed forces of the United States or the North Carolina National Guard or other state military force, or a Reserve Unit of the armed forces who is ordered to active duty by the proper authority within the last 18 months or expected to be ordered within the next 18 months.  A child whose parent or legal guardian has been seriously injured or killed while on active duty is also eligible.
Where do I enroll my child for NC Pre-K? 
Applications can be accessed online, from our office location, or from any participating NC Pre-K site. They can be completed in person or can be emailed, mailed, faxed, or dropped off at our office. Copies of all supporting documentation detailed in the application must be included. Please call our office with any questions regarding application completion 919-735-3371 ext. 245.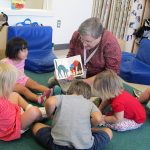 How do I know which NC Pre-K facility to choose? 
You may choose any NC Pre-K site that you may be interested in.  Each participating NC Pre-K classroom must be located in a facility that meets the requirements of 4- or 5-star licensed center using the Division of Child Development & Early Education licensing standards.  NC Pre-K classrooms may be placed in 4- or 5-star licensed private for-profit child care centers, not-for-profit child care centers, Head Start programs, and public school pre-k programs.
How much does it cost for my child to attend NC Pre-K? 
Fees may not be charged to any NC Pre-K Program family for services delivered within the regular 6 1/2 hour school day, which includes but is not limited to classroom materials, and/or cost associated with field trips.  Fees may be charged to cover the full/partial cost of meals when children do not qualify for free/reduced priced lunch.
How long does a NC Pre-K day last?
NC Pre-K must provide a pre-k program for a regular school day (e.g., 6-1/2 hours) for 10-months (180 instructional days a year) school calendar year.  Hours are normally 8:00 am – 2:30 pm, but may vary from site to site.
Is transportation available for my child?
Transportation is available at some sites.  Please contact your site to see if it is available to you.
What curriculum will my child follow during NC Pre-K? 
Curricula that have been reviewed and will be used in The Creative Curriculum for Preschool, sixth edition.
What is the staff-to-child ratios and class size of NC Pre-K?
A NC Pre-K program classroom will not exceed a maximum staff-to-child ratio of 1 to 9 with a maximum class size of 18 children.  Each classroom will have one teacher and one assistant teacher per classroom.
What are the NC Pre-K staff credentials? 
Principals – Principal licensure is required.
Directors – North Carolina Early Childhood Administrative Credential (NCECAC) Level III
Lead Teacher – All teachers will hold Birth-Kindergarten (B-K) or preschool Add-on licensure.
Teacher Assistant – All assistants will hold a CDA (Child Development Associate) credential or an Early Childhood
Education/Child Development (ECE/CD) associate degree
I have to work past the time that the NC Pre-K day ends; what services are available to me?
Private child care sites have a before and after school program that will enable the child to stay on site outside of the 6 ½ hour NC Pre-K day. There is an additional cost for this service. Please call the facility to inquire.
Do I have to pack a breakfast/lunch for my child?
NC Pre-K sites will provide breakfast and/or snacks and lunch, meeting USDA requirements during the regular school day.  Fees may be charged to cover the full/partial cost of meals when children do not qualify for free/reduced priced lunch.
Are religious activities allowed in NC Pre-K?
Staff activities or communications which promote religious believes or activities cannot be directed towards NC Pre-K participants.  This includes but is not limited to worship services, teacher-led prayer, or religious instruction.
Will my child take naps or have rest time?
NC Pre-K programs are encouraged to use developmentally appropriate practices for rest times, based on the child's health and physical needs and the length of the school day.
Do I need to buy school supplies for my child?
No, all school supplies will be provided by NC Pre-K.
My child has special needs and is not potty trained; will NC Pre-K accept him as a student?
Yes, NC Pre-K programs are encouraged to be inclusive.  The value of inclusive settings ensures that each child's strengths, unique learning needs, and abilities are addressed.  NC Pre-K will collaborate in the development and implementation of a child's IEP (Individualized Education Plan).
Can I volunteer my time with my child's class?
Family involvement is critical to the success of children during the pre-kindergarten and in subsequent years.  NC Pre-K program provides meaningful opportunities for parents and families that build trusting relationships and foster a bond between those involved in the education of the NC Pre-K child.  Contact your child's teacher to see when you can volunteer.
For more information, please contact Shelly Willis at 919-735-3371, ext.  235.