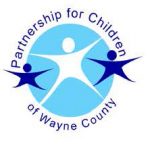 Partnership for Children of Wayne County
800 N. William Street
Goldsboro, NC  27530
(919) 735-3371 ext. 225
For Immediate Press/News Release
Date:               August 16, 2018
Contact:         Charles C. Ivey, Executive Director
Subject:          Search Begins for New Executive Director
The Partnership for Children has begun a search for a new Executive Director.  Charles C. Ivey, Executive Director since 2011, announced his upcoming retirement effective January 1st.  Please send your resumes, cover letters, and lists of references for the new Executive Director position to the Partnership office at 800 N. William Street, Goldsboro, NC. or send an e-mail to sprice@pfcw.org no later than 5:00 p.m., Friday, September 14th.
The new Executive Director will provide leadership of the local Partnership's activities which serve Wayne County's population aged five and under.  Job responsibilities include strategic planning, community collaboration, oversight of a five-million-dollar annual budget, and supervision of 15 employees.  The ED works under the direction of an 18-member Board of Directors to oversee the county's Smart Start, NC Pre-Kindergarten, and other local programs.
Applicants must hold a bachelor's degree in Business Administration, Public Administration, Public Policy, Education, or human services- or business-related field.  A master's degree is preferred.  Candidates must have had at least three-years experience in management, with experience in personnel and financial administration required.  Fundraising/grant writing and non-profit board experience are preferred, as well.
The Partnership for Children is a 501(c)(3) non-profit corporation whose mission is to give children the start they need to become educated, healthy, and self-reliant citizens, who strengthen the social and economic future of our County.  It does this by providing and connecting families with early care and education, health, and family support services through a myriad of programs and activities, including child care resource and referral, Parents as Teachers, Safe Kids, the Dolly Parton Imagination Library, and child care subsidy.
Mr. Ivey has directed the Partnership for seven years and looks forward to handing the reins over to a new ED.  He states that "the Partnership is instrumental in serving the parents and care givers of our youngest citizens.  With the emphasis on early literacy and child development, the role of the Partnership and its staff is more important than ever."  Board Chair Joseph Setzer says he looks forward to "providing continued leadership for our programs.  The selection of a capable and inspirational Executive Director is our #1 responsibility as we close out twenty-years of serving Wayne County's children."
To view the Position Vacancy Classified Advertisement, please click: Executive Director Advertisement