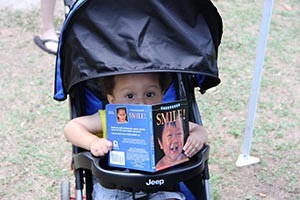 Born Learning is a national public engagement campaign focused on creating early learning opportunities for young children.  Born Learning is funded locally by United Way of Wayne County and administered by the Partnership for Children.
This family festival helps parents and caregivers provide quality early learning opportunities for young children.  This is accomplished through promotional information that links parents with community resources and through the distribution of educational materials.  The Educational materials provide easy-to-do activities that parents and caregivers can use on the go.  These activities and games help young children learn.
Educational materials are available in English or Spanish for free from the Partnership for Children.
THANK YOU FOR JOINING US FOR OUR ANNUAL BORN LEARNING FESTIVAL HELD ON JUNE 4, 2016!!!
OUR NEXT ANNUAL BORN LEARNING FEST WILL BE HELD ON SATURDAY, JUNE 3, 2017!!!

If you would like to become a vendor, please call 919-735-3371!
2014 Annual Born Learning Video
2015 Annual Born Learning Photos
2015 Annual Born Learning Video
2016 Annual Born Learning Video

2017 Annual Born Learning Video

Celebration Activities:
Storytelling at the Public Library
Free Train Rides
Children's Activities in Herman Park hosted by Community Agencies
Live Entertainment
Free Refreshments
Raffle Prizes
Visit the Born Learning website for more information or contact Chrissy Smith at 919-735-3371 ext.  229.